Got a question that isn't listed? No problem!
Send us an email to bookings@fabevents.team and we'll usually respond with 1 hour!
What is the 'My Booking' area?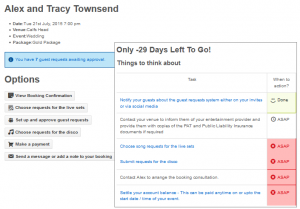 This is a system we've introduced that allows you to login and view and manage all aspects of your booking 24/7.
Features include:
24/7 Access to your booking information.
View and make online payments (Secured by PaymentSense)
'Things to think about' section guiding you through the booking process.
Access to Public Liability Insurance and PAT certificates.
When do we have to pay the final balance?
The final balance can paid at any point before the booking as long as funds have cleared before the start time of the entertainment. Usual practice is that the full balance is paid a week or two in advance of the event or in cash on the day. We are also happy to allow early account settlements and you can make payments of any amount at any time via the 'My Booking' area and you'll receive an instant receipt and balance update.
What happens in the event of a cancellation?
When you make a booking you are agreeing to the Booking Terms and Conditions. These terms and conditions include various cancellation clauses designed to protect both the Client and Performer. Restassured, please note that to date, We have never cancelled any private booking. If you are unsure about anything mentioned in these terms and conditions please give us an email or call.
We want to book you! What's next?
Superb! Visit my booking enquiries page and drop usa line to check availability.
If we are available, I do require a 10% deposit to secure the date which can be paid via Deposit Payment Page. Payments are secured via Payment Sense. Upon receipt of the deposit I will put together a booking confirmation for your records.
As stated above, the final balance can then be paid anytime before the event with the final balance due 7 days before the start date inidicated on your booking confirmation.