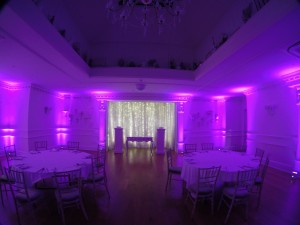 We are excited to offer our latest upgrade of Wireless LED Uplighting and Wedding Uplighting throughout Lancashire and the North West which can totally transform any room.
They can be set to any colour, alternate colour settings, colour fades or colour changing patterns as well as more complex programmed sequences (*subject to availability and additional costs)
We use White LED Uplighters / mood lights. They are completely wireless with an average battery life of 13 hrs (*colour / pattern dependant) making them some of the best lights on the market. They can produce any static colour or set to fading / programmed cycles (note: fading or flashing cycles do require minimal wiring between each fixture). If you require them for longer durations they can be plugged in as well.
Totally transform your room and bring it to life with these fantastic LED uplights.
Key features of this lighting:
Sleek White Metallic Fixtures
Wireless operation, no taped trailing power cables
Easy, fast installation (typically less than 5 mins)
Any colour that you require
Fully Health & Safety / PAT compliant
Low cost / high impact
Lighting Demo:
Special thank you to Ashfield House for allowing us to use their venue for this demo.
Pricing:
The below prices are the addon prices.
Uplight 10
£100
Upto 10 Wireless Uplights
Uplight 20
£200 Upto 20 Wireless Uplights
We normally only include our wireless uplights as an addon item to any existing dancefloor, photobooth or entertainment package however we can on occasion provide an uplighting only service subject to a £100 installation fee plus mileage.
(* Don't know how many you'll need? Just enquire and let us know the venue and rooms that you would like covering and we'll let you know).